Kompass Business Directory - Elesa (UK) Ltd
26 Moorlands Estate
Metheringham
Lincoln LN4 3HX
United Kingdom
Latest products added Elesa (UK) Ltd
Additional information
Legal information - Elesa (UK) Ltd
| | |
| --- | --- |
| Nature | Secondary establishment : Branch - Sales Office |
| Year established | 1989 |
| Legal form | Private Limited |
| Activity | |
| Registration no | 00577223 |
| No employees | 10-19 Employees |
Presentation - Elesa (UK) Ltd
Established in 1941, Elesa is the international reference for standard machine components within the mechanical, machinery, electrical and industrial sectors. An excellent combination of technology and design has given rise to diverse production, due to the constant commitment to following developments in engineering plastics and metal technology. A company culture purely focused on product quality, combined with an innate sensitivity for design, ergonomics, and research led to the creation of products that are unique and recognisable worldwide as Elesa products.
·
200 Patents worldwide
·
43 Industrial design awards
·
Worldwide distribution
·
50,000 product codes available
·
Customisation options
·
Free technical advice
Most of the design, production and testing takes place in Monza, an area that spans over 70,000 square metres where tens of millions of machine components are produced each year. The fully automated logistics centre holds over 50,000 different products in stock, which are ready to be shipped worldwide. Elesa is partnered with the A2A group, where all electricity is from renewable energy.
Elesa continuously invests in R&D, especially surrounding the innovation of its production technologies. Creating new, revolutionary products, that can further improve the performance and reliability of existing ones is a primary objective for Elesa. To ensure the highest quality, Elesa has an internal testing laboratory, frequently demonstrating the results publicly through its
YouTube Channel
. The testing lab features the most advanced equipment and measuring instruments, studying the evolution of new plastic materials to develop products that align with the high standards Elesa are known for, thus satisfying the requirements of demanding applications and markets. All standard products in the Elesa range are subjected to mechanical, physical, chemical and durability testing, so to provide correct and reliable technical data.
In addition to Elesa, its vast range, and unmatched quality assurance, comes the offer of on-demand customised technical solutions to meet customers' specific needs. Production flexibility, technical know-how, R&D, constant activity, and customer care allow for quick answers and competitive solutions.
Elesa Standards cover industrial components including, handwheels, handles, levers, knobs, gears, spring and indexing plungers, levelling feet, locks and latches and hydraulic tank accessories in engineering grade plastics, aluminium, steel and stainless steel. Also a range of light to heavy duty industrial castors, vibration damping elements, conveyor components, rod ends, fork joints and magnets.
Industrial machinery and equipment are well served with the Elesa anti-vibration mounts, ball lock pins, ball transfer units, filler breathers, grip knobs, latch clamps and metal hinges, in addition to oil level indicators, plastic hinges, pneumatic clamps, stainless steel hinges, toggle clamps, tubular handles and wing knobs.
More Information on our Products
Handwheels & Crank Handles
Clamping Knobs
Clamping Levers
Lift & Pull Handles
Revolving Handles
Control Knobs
Position Indicators
Indexing Plungers
Spring Plungers
Levelling Feet
Hinges
Locks & Latches
Filler Breather Caps
Column Level Gauges
Castors & Wheels
Tube Connecting Clamps
Adjustable Feet
Adjustable Handles
Anti Vibration Mounts
Ball Lock Pins
Bridge Handles
Cam Action Levers
Cam Latches
Castors & Wheels
Clamping Handles
Column Level Indicators
Detent Hinges
Digital Position Indicators
Drain & Blanking Plugs
Eye Screws
Flush Handles
Fork Joints
Friction Hinges
Grab Handles
Guide Rails
Hook Clamps
Indexing Handles
Indexing Levers
Levelling feet
Lift Off Hinges
Lobe Knobs
Machine Mounts
Magnets
Modular Roller Tracks
Oil Level Indicators
Quick Release Pins
Recessed Handles
Rod Ends
Safety Hinges
Stainless Steel Hinges
Toggle Clamps
Tubular clamps
Vibration Dampers
Washers
Wing Knobs
Wing Nuts
Company's Videos - Elesa (UK) Ltd










General Information - Elesa (UK) Ltd
Banks
The Royal Bank of Scotland
Export area
Asia-Pacific, Central Asia, Middle East, Africa, Central/East Europe, West. Europe, North America, Central America, South America
Brands - Elesa (UK) Ltd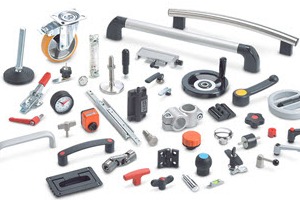 Ganter
standard machine elements (metal)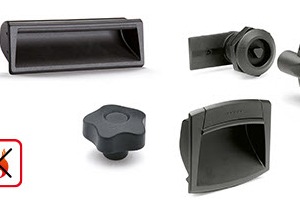 Elesa Self Extinguish
meet the flame proof material requirements of UL-94 V0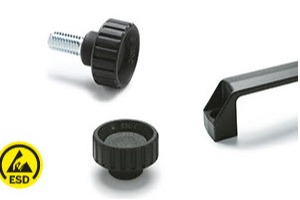 Elesa ESD
in special conductive techopolymer (ESD-C Electrostatic Discharge Conductive)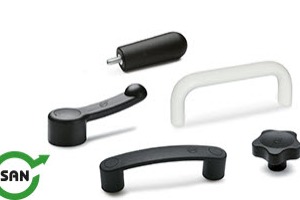 Elesa SAN
with antimicrobial additives preventing the build up of microbes, bacteria, mildew & fungi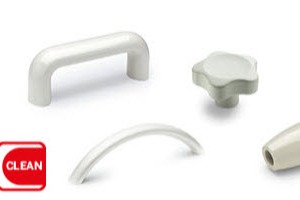 Elesa CLEAN
handles, lobed & knurled knobs for sanitary applications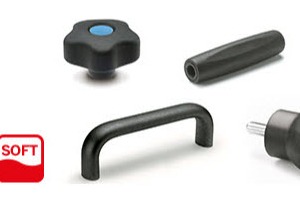 Elesa SOFT
for a safer, more stable grip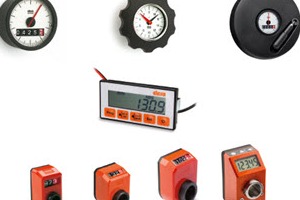 Elesa-Clayton
Analogue/digital, mechanical/electronic indicators for positional setting of lead screws & shafts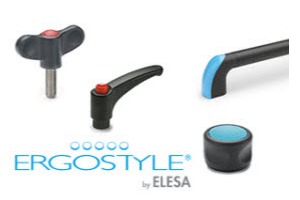 Ergostyle
for aesthetic user-friendliness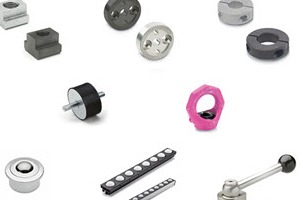 Elesa
standard machine elements (plastic)
Mr Nigel Pritchett
MD/Chief Operating Officer (Managing Director)
Participation - Elesa (UK) Ltd
News - Elesa (UK) Ltd
ATEX compliant components
from Elesa ease your pathway to equipment compliance and nurture confidence in the minds of users – so supporting hard won manufacturing reputations.
Elesa's stylish product range of hydraulic components for ATEX equi...
From wall mounted cases to free standing cabinets, Elesa are now offering lever latches, swinghandles and recessed push handle latches to suit specialist housings for industrial, electrical and office use.
Their
ELCK lever operated qua
...
Location - Elesa (UK) Ltd
Opening hours - Elesa (UK) Ltd
Key figures - Elesa (UK) Ltd
Activities - Elesa (UK) Ltd
Producer
Distributor
Service providers
Main activities within the Kompass classification
Secondary activities within the Kompass classification