New product
Winmate FM10Q Android Vehicle Mounted Computer That Works in Any Environment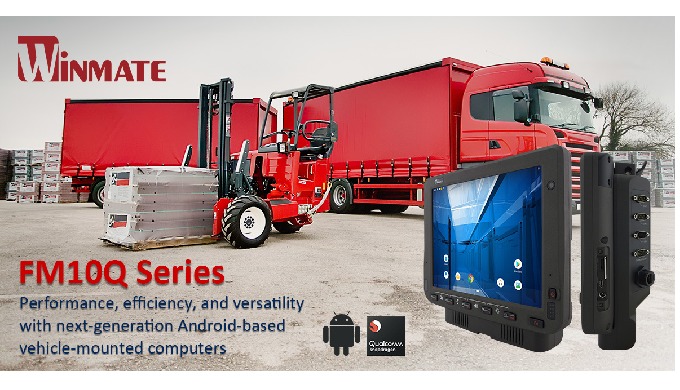 Start date: April 14, 2022 4:00 PM
End date: April 11, 2025 3:21 AM
Next-generation rugged vehicle-mounted computers powered by Qualcomm© Snapdragon™ 660 processor is here to boost the productivity of today's warehouses
Indestructible Vehicle Mounted Computer for Warehouse and Logistics
The renowned
FM10Q
series brings automation for warehouse and logistics processes. Connecting forklifts and other fleet management vehicles to improve process control systems is only a few clicks away on an
FM10Q
vehicle-mounted computer. The compact form-factor of the
FM10Q
vehicle-mounted computer, and yet a brilliant 10.4-inches screen size fits into tight spaces of virtually any warehouse vehicle from forklift and truck to a cabin of a more heavy-duty vehicle. Forklift operators and field workers rely heavily on Mobile Data Terminals (MDTs) for situational awareness, route optimization, and vital on-site decisions. That's where we come in. Tailored for warehouse vehicles, the
FM10Q
brings a new level of convenience to warehouse operations. From downloading and sharing data captured on the production floor to reducing human error to instant communication or conferencing, the FM10Q vehicle-mounted computers offer unlimited benefits for your warehouse and logistics applications.
Forklift Automation
Engineered to fit seamlessly into forklifts and other warehouse vehicles with its wide range of power input 10V DC - 60V DC and power isolation, the Winmate FM10Q is the perfect solution for forklifts that will help minimize errors, streamline inventory management, and improve operational efficiencies. Tailored for forklift automation these vehicle-mounted computers bring a new level of convenience to warehouse operations.
FM10Q Vehicle Mounted Computer: Key Benefits
Easy maintenance and repair
are guaranteed by an application-focused smart modular design that contains an afield-replaceable front panel and the dock with a one-click top latch to allow for easy removal of the device from the dock for repair and maintenance data transfer and other applications.
Wireless connectivity
options such as Wi-Fi, BT, 4G, and GPS to enable records to be updated in real-time, ensure that the most up-to-date information is always available, and optimize vehicle tracking and route optimization.
Tailored for in-vehicle applications
with a wide range of power input (10-60V DC) that gives the FM10Q vehicle-mounted computer easy device compatibility with a multitude of vehicles while handling unstable voltage from the cars. The power ignition control allows users to control when the vehicle-mounted computer turns on/off when the vehicle is started.
Keep drivers safe with screen blanking function
Once activated, the function helps reduce visual and cognitive distractions and improve safety by limiting device functionality when the vehicle is moving.
Did You Know?
The need for 24/7 real-time track and trace solutions from dispatch to delivery forces logistics companies to adopt new technologies and modernize facilities and equipment. It is calculated that forklift and fleet management automation increases productivity by 25%. If you plan to deploy new units or refresh the existing forklift automation solutions, rugged vehicle-mounted computers should be at the top of your evaluation list. Choose rugged
Winmate FM10Q
for your next warehouse vehicle automation project.
A Closer Look: FM10Q
Why Choose Me?
The
FM10Q
is powered by Qualcomm© Snapdragon™ 6 series mobile platform and featured a superior user experience in a vehicle computer form factor.
As Tough as They Come
Built to withstand the rigors of industrial environments - water, dust, shock, and vibration - the
FM10Q
complies with failproof IP65 protection and stringent military standards MIL-STD-810G.
Key Product Features
Qualcomm Snapdragon™ 660 octa-core, 2.2 GHz
Android 9.0 OS
10.4" 1024 x 768 panel with PCAP touchscreen
Field-replaceable front panel to reduce service costs
Magnesium alloy housing
Built-in Wi-Fi and BT
IP65 waterproof and dustproof
Wide range -30ºC to 50ºC operating temperature, optional intelligent heater
About Winmate
Winmate Inc. is a rugged computing and embedded solutions provider for industries operating in some of the most challenging environments. Founded in 1996 in Taipei, Taiwan, where its headquarters, research, development facility, and production lines are located, the company has offices and service centers worldwide. Winmate develops rugged industrial-grade computing solutions that advance the Industrial Internet-of-Things (IoT). Industrial display and panel PC, HMI, embedded systems, IoT gateways to rugged tablets, and handheld devices for industries ranging from transportation and logistics to marine and military, railway, oil and gas, smart grid, healthcare, and field services. Winmate also provides professional services in customizing products and project management to create a unique customer's needs.
For more information, visit
www.winmate.com
.