New product
Robust Vehicle Mounted Computers Survive Under Unfavorable Operating Temperature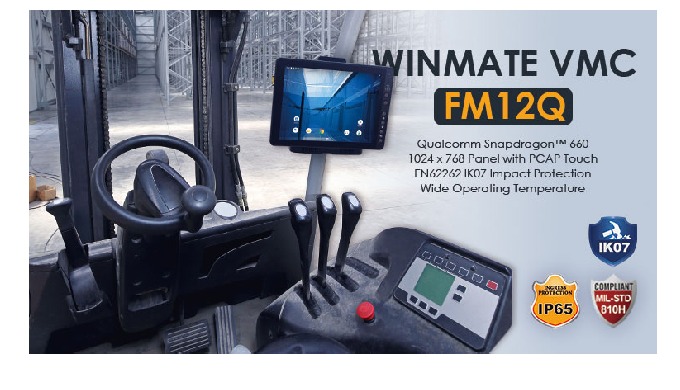 Start date: April 11, 2022 3:01 AM
End date: April 11, 2025 3:01 AM
Winmate, a leading manufacturer of rugged mobile computers, announced a new VMC model: FM12Q. The 12.1" VMC comes with PCAP touch, Android OS, and Qualcomm Snapdragon™ 660, built for extreme operating temperatures. With a Rugged design casing and an upgraded platform, the FM12Q Android VMC was designed to handle the most challenging conditions.
The Android Vehicle Mounted Computer FM12Q offers:
MIL-STD 810H durability against drops, vibrations, humidity, and extreme operating temperature.
IP65 rating is for waterproof and dustproof housing.
A 12.1-inch PCAP touch display supports hands, rain, and thick gloves modes.
Qualcomm Snapdragon™ 660 Octa-Core, 2.2 GHz CPU.
Support -30°C to 50°C wide operating temperature.
Built-in GPS/GLONASS, G-Sensor, Temperature sensors as standard.
2MP front camera.
Computers are vital for offices and industries nowadays. However, some work environments pose destructive challenges for these computers, from severe heat, cold, humidity, or extreme dust contamination. The newly launched FM12Q can run at lower temperatures thanks to durable materials that do not deform due to sudden temperature changes. The sealed enclosure and integrated defroster (optional) with a temperature sensor prevent internal condensation and corrosion.
"The FM12Q Android Vehicle-mounted computer is built to survive in extreme conditions. With the Qualcomm Snapdragon™ 660 processor, it offers flexibility and powerful performance," says Allan Lin, The General Manager of Winmate Inc. "The reliability and toughness of the FM12Q have been tested and expected to bring great value to users worldwide."
About Winmate
Founded in 1996,
Winmate Inc.
provides rugged computing devices, Industrial Displays, and embedded solutions for industries operating in challenging environments. Its headquarters in Taipei, Taiwan, has research development facilities and production lines. Today,
Winmate
operates globally with offices and service centers worldwide. Winmate's rugged industrial-grade computing solutions drive the advances in Industrial Internet-of-Things (IoT). Its solutions, such as Industrial displays, Panel PCs, Embedded systems, Rugged tablets, Handheld devices, etc., are being adopted by many industries such as Transportation, Marine, Military, Railway, Oil & Gas, Healthcare, and Field services.
Winmate
also provides product customization and project management services to suit unique customer needs.
For more information, visit
www.winmate.com
.