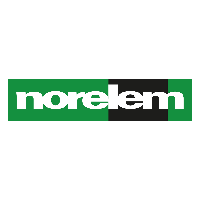 norelem Normelemente GmbH & Co. KG
norelem - green light for all you have in mind
norelem
Kompass Business Directory - norelem Normelemente GmbH & Co. KG
Volmarstrasse 1
71706 Markgröningen
Germany
Latest products added norelem Normelemente GmbH & Co. KG
Additional information
Legal information - norelem Normelemente GmbH & Co. KG
| | |
| --- | --- |
| Nature | Headquarters |
| Year established | 1957 |
| Legal form | Gesellschaft mit beschränkter Haftung & Compagnie Kommanditgesellschaft |
| Activity (WZ08) | Herstellung von Lagern, Getrieben, Zahnrädern und Antriebselementen (28150) |
| Handelsregister | Stuttgart HRA 202135 |
| VAT no | DE813191811 |
| No employees | Not declared |
Presentation - norelem Normelemente GmbH & Co. KG
About norelem
norelem is a world-leading manufacturer and supplier of flexible standard parts and components for mechanical engineering. The company supplies more than 70,000 standard products relating to standard machinery and operating elements, as well as automation components.
'Green Means Go. Find it. Get it. Go.' is norelem's strapline, epitomising norelem's dedication to customer service. Ninety-eight per cent of norelem's parts are available from stock, with on-site technical support for products available. To help keep production on the go, orders placed with norelem before 3pm are dispatched on the same day.
About THE BIG GREEN BOOK
THE BIG GREEN BOOK is both norelem's ideas catalogue and reference book. It is the definitive 'go to' guide for standard engineering components.
THE BIG GREEN BOOK combines product information, specifications, and technical information in one single source. Created using a logical sequence of article numbers based on stages of production, it contains best practice references, advice, and guidance.
w
ww.norelem.c
o.uk
Company catalogues - norelem Normelemente GmbH & Co. KG
Company's Videos - norelem Normelemente GmbH & Co. KG




General Information - norelem Normelemente GmbH & Co. KG
Certifications
| | |
| --- | --- |
| Type: | REACh |
| Type: | RoHS |
| Type: | ISO 9001:2015 |
Herr Marcus Schneck
CEO - Chief Executive Officer (Geschäftsführung)
Location - norelem Normelemente GmbH & Co. KG
Other addresses
Visit address
Volmarstrasse 1
Postfach 11 63
71706 Markgröningen
Germany
Postal address
Volmarstrasse 1
Postfach 11 63
71706 Markgröningen
Germany
Opening hours - norelem Normelemente GmbH & Co. KG
Activities - norelem Normelemente GmbH & Co. KG
Producer
Distributor
Service providers
Main activities within the Kompass classification
Other classifications (for some countries)
WZ (DE 2008) : Herstellung von Lagern, Getrieben, Zahnrädern und Antriebselementen (28150)
NACE Rev.2 (EU 2008) : Manufacture of bearings, gears, gearing and driving elements (2815)
WZ (DE 2008) : Großhandel mit Werkzeugen und Kleineisenwaren (46741)
NACE Rev.2 (EU 2008) : Wholesale of hardware, plumbing and heating equipment and supplies (4674)
ISIC 4 (WORLD) : Manufacture of bearings, gears, gearing and driving elements (2814)
ISIC 4 (WORLD) : Wholesale of construction materials, hardware, plumbing and heating equipment and supplies (4663)
Secondary activities within the Kompass classification