Iron Oxide
- Product
Qingdao City, Shandong -
China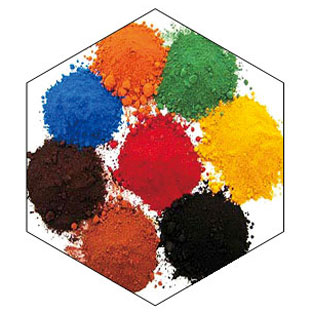 includes ironoxidered,ironoxideblack,ironoxideyellow, ironoxide green, ironoxidebrown,etc.

ProductCatalog:

Ironoxidepigmentforconstruction
Ironoxidepigmentforcoatingandpaint
Ironoxidepigmentforrubber,plasticandleatherEasy-disperse&micro
sizedironoxidepigment
Ironoxidepigmentforceram...
Description of the Product
includes iron oxide red, iron oxide black, iron oxide yellow, iron oxide green, iron oxide brown, etc.

Product Catalog:

Iron oxide pigment for construction
Iron oxide pigment for coating and paint
Iron oxide pigment for rubber, plastic and leatherEasy-disperse & micro
sized iron oxide pigment
Iron oxide pigment for ceramics

Main Uses:
Ferric oxide pigment owns good physical and chemical performances: Acid resistance, alkali resistance, light resistance and heat resistance
Water resistance and solvent resistance: insoluble in water, all kinds of mineral oil, plant oil and organic solvents
Packaging: 25kg/kraft paper bag
Price of the Product
Price not indicated
Technical Details
For the specifications, please check our website: www.yuyinchem.com or contact sales.
Category of the Product
I want to get more details about the product
Company catalogues - Qingdao Yuyin Chemical Co., Ltd.

Products Brochure (English)
10 pages

PVC-Products (English)
1 pages