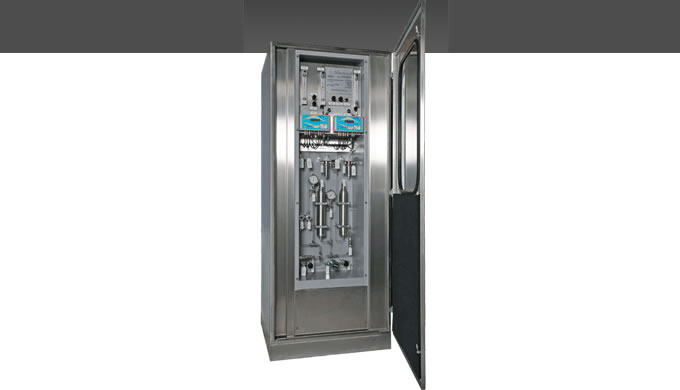 The MCM Continuous Moisture Measuring System (CMMS) provides catalytic reforming applications with the most accurate and reliable means available for on-line monitoring of moisture in recycle gas. Utilising our unique Temperature Controlled Silicon Sensor, the CMMS detects changes as low as 1 ppm[V] and stands up to corrosives, such as chloride, en
Description of the Product
The MCM Continuous Moisture Measuring System (CMMS) provides catalytic reforming applications with the most accurate and reliable means available for on-line monitoring of moisture in recycle gas. Utilising our unique Temperature Controlled Silicon Sensor, the CMMS detects changes as low as 1 ppm[V] and stands up to corrosives, such as chloride, ensuring representative sampling of the recycle gas stream.
MCM's Temperature Controlled Silicon Sensor brings distinct benefits to catalytic reforming applications:
Silicon sensors have unique moisture capacitance behaviour, enabling accurate measurement of moisture measurement in recycle gas in the range 0 to 800 ppm[V].
The Silicon sensor is unaffected by chloride levels up to 150 ppm[V].
Silicon sensors can resist corrosive agents, such as HCl, that are commonly found in recycle gas. As a direct result, sensor life is measured in years, rather than months.
The unrivalled speed of response of a Silicon sensor means that, upon commissioning or after exposure to high moisture levels, the system requires only a short period of drydown to provide accurate data.
Automatic recalibration is accomplished daily, using three internally generated, prime moisture calibration standards. By using a newly calibrated Sensor every 24 hours, the MCM CMMS eliminates the potential for long-term drift and offers extreme accuracy, stability and repeatability
Product Specification
Sensor Type Silicon Sensor, Temperature Controlled to 46°C
Operating Ranges 1 to 1000 ppm[V], Ranges in Dewpoint °C / °F and lb/mmscf available upon request
Speed of Response Full scale 'wet' to 'dry' in <1 minute using Push Purge®.
ATEX Rating II 1G EEx ia IIC T4 Ta = -20°C to +60°C
Diagnostics Push Purge® feature aids sensor drydown, confirms that the senor and electronics are operational and highlights the presence of contamination. Push Purge® confirms if the speed of response of the analyser is maintained, validates readings on-line and removes hysteresis before each measurement.
Price of the Product
Price not indicated
Category of the Product