Software Development: 8 Reasons Why Business Needs Outsourcing
- Service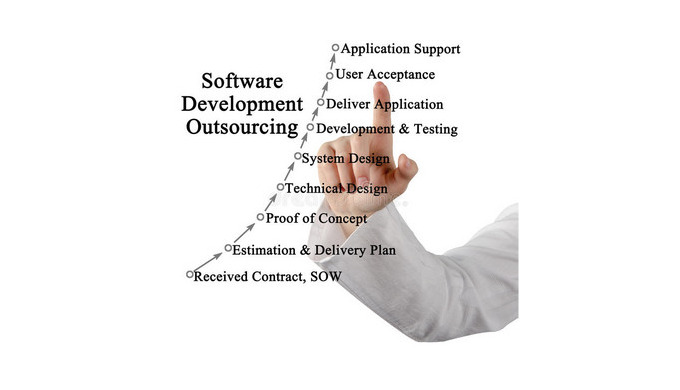 Today it is impossible to imagine a business ignoring software solutions: be it a small local retail outlet or a global exporter. Of course, not every company is duly equipped with own software department. Thus, lots of enterprises prefer to grant this part of job to an outsourcing
...
Description of the Service
Today it is impossible to imagine a business ignoring software solutions: be it a small local retail outlet or a global exporter. Of course, not every company is duly equipped with own software department. Thus, lots of enterprises prefer to grant this part of job to an outsourcing
software developing company
.
A luxury of having professional developers on your team not only requires financial investment but also takes a lot of precious time. Are you smart enough to afford it?
Instead of inventing what had been invented long ago, you can just appeal to a third party to undergo your software development processes.
What are the reasons these outsourcing guys are a much better option than paying an in-house team?
1. Time Efficiency
Have a 'burning' project and fixed deadlines? Or want crucial business program solutions to be quickly delivered for use? Or are you a startup striving to bite a piece of the market right now?
If so, the right answer here is a software development outsourcing.
Creating your own in-house team is a rather time consuming process, while with software outsourcing, like
Sirinsoftware
, you don't have to waste time, trying to manage everything on your way. All you need is to monitor the agreed time schedule and to accept the final product.
2. Project Terms
Software developers are nuts on respecting the clear deadlines.
So, you can follow an approved project budget and achieve results tailored to meet your requirements under the fixed time schedule.
3. Scalable Solution
Sure, your requirements would change from one project to another. You don't need to run a full pack in-house team to face one or another challenge. Sometimes all you need is just a couple of developers, and you can discuss this with your software outsourcing agent any time.
4. Flexibility
IT outsourcing means you don't have to take into account a geography. Moreover, you will enjoy a wide range of options up to your demands and requirements. To be more precise - you can hire a software outsourcing team anywhere globally with the rates which will suit you fine.
5. Cost Effectiveness
Software development outsourcing is definitely a cost-effective solution for startups and small businesses, not enjoying that many financial resources to invest.
It means you only pay for the ready-to-use product without any extra expenses.
6. Specific Functions
Sometimes your in-house team lacks a QA expert or a UI/UX designer.
Shall you pick up these experts to launch a project? Just let it go with a professional outsourcing service provider.
7. Expert Talent Pool
Every day more and more new technologies and innovations become live. Your people cannot be specialists at everything, while an outsourcing company promptly win an adequate experience for any modern ambitious project.
8. Ongoing Maintenance
Most software projects would require ongoing support.
This makes software development outsourcing a real life time solution for your project maintenance.
To wrap it up
No doubt, these days software development outsourcing is becoming a popular must-have practice.
It has proven to be a mutually beneficial experience and an easier way to get projects promptly done, especially it is right for smaller companies that are unable to invest much in hiring a smart in-house development team.
Price of the Service
Price not indicated