U-bolts and U-bolt pallets
- Product
Medebach - Deifeld -
Germany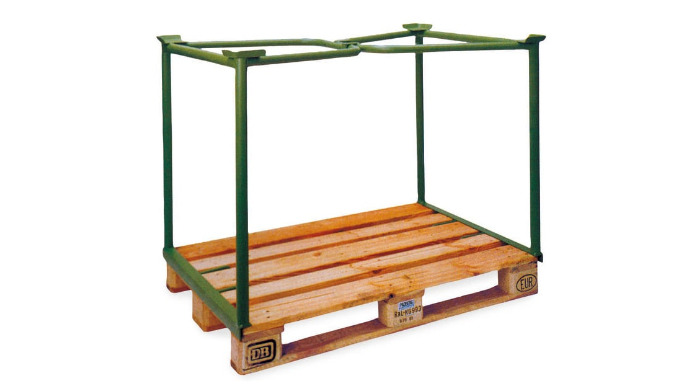 U-bolts
For common pallet sizes
Our U-bolts are as standard designed for the size of the Euro-pallet, and alternatively for 1000 x 1200 mm. You can choose between two basic models which differ in their devices for stackability and for their fastening on the pallet.

The decisive advantages of our U-bolts are their high stabil
Description of the Product
U-bolts
For common pallet sizes
Our U-bolts are as standard designed for the size of the Euro-pallet, and alternatively for 1000 x 1200 mm. You can choose between two basic models which differ in their devices for stackability and for their fastening on the pallet.
The decisive advantages of our U-bolts are their high stability, their fast installation, and the possibility to plug the U-bolts in even after the pallet has already been loaded, thus allowing to assemble large and secure transport units which can be easily stacked in a space-saving manner when empty.
U-bolts in our shop
U-bolt pallets
Wooden pallet suitable for U-bolts
With this type of transport frames, a wooden pallet is equipped with riveted U-Sleeves into which special U-bolts are inserted.
U-bolt pallets in our shop
Special versions
Customised U-bolts and U-bolt pallets
Take advantage of our ideas and our expertise and find customised "helpers" for your logistics systems. Your customised stackable storage unit is formed by combining an U-bolt pallet (available in different surface sizes and measurements) with fitting U-bolts.
Our premium products and the satisfaction of our customers are the result of the dedicated work of our highly qualified employees and of our state-of-the-art production facilities.
Request Special versions
Price of the Product
Price not indicated
Category of the Product
I want to get more details about the product