Accumold
World Leaders In Micro Molding More than 30 years dedicated to micro injection molding and tooling.
Contact - Accumold
1711 SE Oralabor Rd
Ankeny IA 50021
United States
Send a message - Accumold
Legal information - Accumold
| | |
| --- | --- |
| Nature | Head Office |
| Year established | 1986 |
| Describe your Company and attract Business opportunities (SIC87) | (3000) |
| No employees | 350 Employees |
| Kompass ID? | US800719 |
| Kompass member for | + 7 years |
| Membership | Booster International |
Presentation - Accumold
Accumold is a high-tech manufacturer of precision micro, small and lead frame injection molded plastic components. Utilizing processes developed from our Micro-Mold® technology, we design, build and produce unique molds and parts efficiently for a variety of markets that include Micro Electronics, Optics and Medical.

We produce components that range in size from 5cm on down with tolerances often in microns. Our customers require an uncompromising attention to detail, extremely high quality, low production costs, and our speed-to-market services.

- Our state-of-the-art facilities include a team of 50+ toolmakers. This group operates 24/7 to meet the high demand for their innovative services.

- Our production team serves around-the-clock to ensure that parts are produced on-time and to spec. This talented group is geared for speed and volume.

- Our production area is equipped to meet all of the market demands from our clean room to our automation and sub-assembly processes.

Even though micro-molding may seem new and novel, Accumold has been in the "micro" business for more than two decades and have produced billions of micro-molded parts over the years. It's where we started as a company, and it's where we continue grow, innovate and produce.
Company catalogues - Accumold
Accumold Micro-Mold Parts (English)
2 pages

Material Behavior In Micro Molding-Accumold-Thin-Wall-Whitepaper (English)
18 pages

Micro Molding Design Guidelines (English)
2 pages
General Information - Accumold
Brands - Accumold
Micro-Mold® (Producer / Importer, Exporter)
Accumold (Producer / Importer, Exporter)
News - Accumold
Other
DMACC + Scholarship = Accumold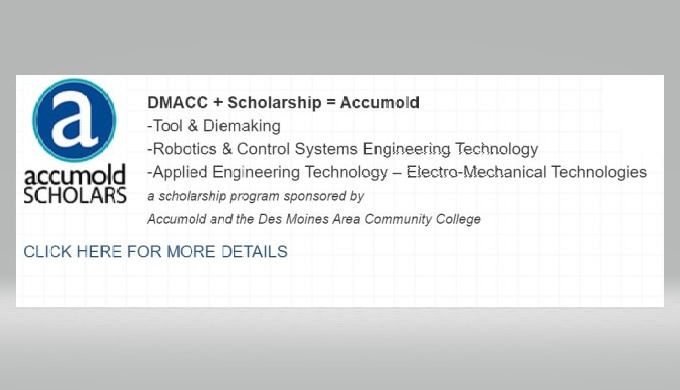 Date: January 1, 2021 5:00 AM
End: January 2, 2022 4:59 AM
Location: online
DMACC + Scholarship = Accumold
Tool & Diemaking
Robotics & Control Systems Engineering Technology
Applied Engineering Technology – Electro-Mechanical Technologies
a scholarship program sponsored by
Accumold
and the
Des Moines Area Community College
Next Informational Meeting:
TBD
VIRTUAL
Call Accumold HR for more information 515 963-2062
–Tool & Diemaking
–Robotics & Control Systems
—Electro-Mechanical Technologies
Participate in an event
https://biomedevicesanjose.com/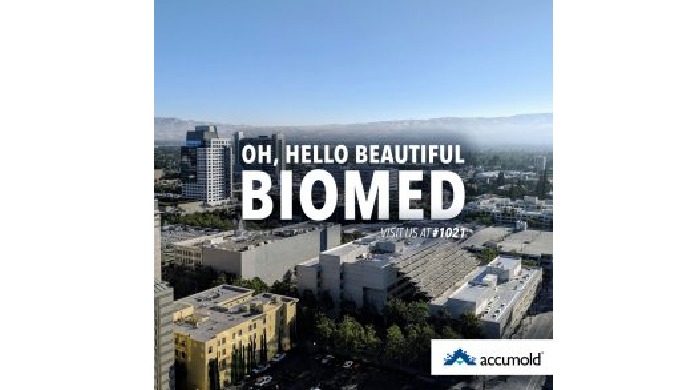 Date: December 4, 2019 2:00 PM
End: December 5, 2019 11:00 PM
Location: December 4-5, 2019 San Jose Convention Center San Jose, CA
We will be at BIOMEDevice San Jose at #1021.
Accumold is a world leader in medical micro molding and we love to highlight leading minds in the field. If you have specific micro-molding questions or want us to produce a micro-injected part for you, reach out here.
Activities - Accumold
Producer
Distributor
Service provider
Main activities within the Kompass classification
Other classifications (for some countries)
SIC (US 1987) : (3000)
NAICS (US 2012) : Other Industrial Machinery Manufacturing (333249)
NAICS (US 2012) : Plastics Product Manufacturing (3261)
NAICS (US 2012) : All Other Plastics Product Manufacturing (326199)
Secondary activities within the Kompass classification